Iran nuclear deal: US 'issues remain' – Tillerson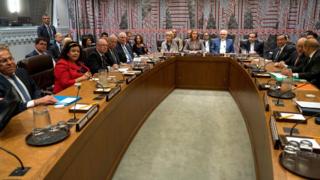 US Secretary of State Rex Tillerson has said Washington continues to have "significant issues" with the Iran nuclear deal, after his first talks with his Iranian counterpart.
But Mr Tillerson said the talks were "very matter of fact", and acknowledged Iran was complying with the deal.
Wednesday's talks at the UN, involving all seven parties that negotiated the deal, focused on its implementation.
They came a day after President Donald Trump denounced the deal.
At a speech to the United Nations General Assembly, Mr Trump described it as an "embarrassment". He later told reporters that he had decided what to do about the agreement but would not reveal what he had decided.
Mr Tillerson said Mr Trump found the so-called sunset clause, which sees restrictions on Iran's nuclear enrichment programme lifted after 2025, unacceptable.
Iran reached the landmark nuclear deal with the P5+1 group of world powers – the US, UK, France, China and Russia plus Germany, in 2015.