On-the-run fraudster Norman Fowler arrested in Spain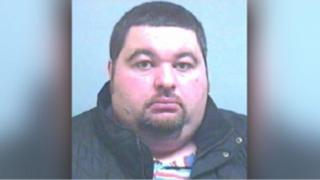 A serial conman wanted by police for a £21,000 fraud in the UK has been arrested in Spain.
Norman Fowler went missing in 2014 after being sentenced to nine months in jail at Norwich Crown Court.
The 38-year-old, from Colchester, was later arrested by Spanish Police in Alicante for unrelated gun licensing matters.
Essex Police said Fowler had been detained in Spain on October 10. Extradition proceedings are under way.
In May, the BBC tracked him to Alicante, where he had been renting an apartment from a British businesswoman.
In 2012, he stole £21,000 worth of camera equipment from videographer Tom Tailford, from Norfolk.
Mr Tailford had rented the equipment to Fowler after being contacted by him on internet sales site Gumtree, but it was never returned and no fees were paid.
After skipping bail from Norwich Crown Court, Fowler rented an apartment from British businesswoman Betty Inglis in December 2014.
In January this year, he moved to nearby Pedregeur after his neighbours found out about his past.
Once there he tried to sell a car to ex-pat Diana Lindsay-Vosper. The vehicle turned out to be stolen.
He was later arrested by Spanish Police in relation to gun licensing matters, but bailed.
Last month, another ex-pat, who did not want to be named, said he had received a 2,500 Euro cheque from Fowler in exchange for goods he had sold him. The cheque bounced.
He said: "Nobody believed he could be a fraudster as he was such a sad-looking guy. He had the perfect cover."
A spokeswoman for Essex Police said Fowler had been "detained in Spain on October 10 after a European Arrest Warrant was made".
She said: "He was wanted for fraud using Gumtree and Ebay totalling £21,000 with at least nine victims.
"He remains in custody in Spain."