Casualties feared in RAF Tain 'live-firing' incident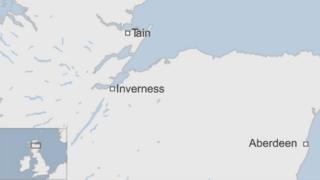 Police have sealed off the RAF Tain bombing range after an incident during a "live-firing" training exercise.
Unconfirmed reports suggest one person has died and another is injured. Police Scotland confirmed they were called to the defence facility at about 17:55.
Officers were still at the scene, 30 miles north of Inverness, several hours later.
An army spokeswoman confirmed that defence officials were dealing with an incident.
She said: "We are aware of an incident at the Tain base, near Inverness.
"We will release more information as and when it becomes available. It would be inappropriate for us to comment further at this point."
A Police Scotland spokesman said: "Police are currently in attendance at RAF Tain following reports of an incident.
"A call was received by police at 5.55pm and officers are at the scene."