Labour to stage vote on public sector pay rises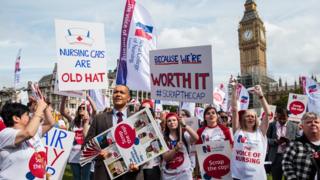 Labour will attempt to up the pressure on ministers over public sector pay by staging a Commons vote next week.
The party is urging sympathetic Tory MPs to vote on Wednesday to end the "unfair" 1% cap on pay rises.
TUC general secretary Frances O'Grady said public servants were angry at seven years of pay restraint.
The government says it recognises the sacrifice made by public sector workers, and some ministers have suggested the cap should be lifted.
The Public and Commercial Services union is to ballot its members on industrial action to end the "misery" of real-terms pay cuts.
Labour's health spokesman Jon Ashworth said Conservative MPs who "sincerely" believe the public sector pay cap should vote with his party during its Opposition Day debate, which would not be binding on the government.
He told Sky News: "We keep getting briefings in newspapers and suggestions that the government is sympathetic and wants to do something, and 'oh, it's terrible and we accept that but let's see where we get to'."
Public sector pay was frozen for two years in 2010, except for those earning less than £21,000 a year, and since 2013, rises have been capped at 1%, below the rate of inflation.
The Institute for Fiscal Studies has said raising pay in line with inflation for the next three or four years would cost £6bn to £7bn more than continuing with the cap.
Next week's Commons vote will come a week after nurses held a demonstration in Westminster calling for an end to the cap – it coincided with Prime Minister's Questions.
During PMQs, Theresa May said public sector workers were doing a vital job in often harrowing circumstances.
She added that the government would wait for the publication of the remaining reports from two pay review bodies, for the police and prison officers, before deciding its policy framework for 2018-2019.
Speaking at the TUC conference in Brighton, Ms O'Grady said it was time to "scrap the cap".
"I know that nurses, paramedics and firefighters are very angry," she said, adding that seven years was "a long time for anyone to manage" with pay restraint.