Hurricane Irma: Boris Johnson sees impact on Caribbean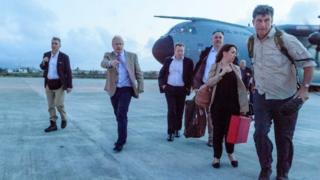 Foreign Secretary Boris Johnson has defended the UK's response to communities hit by Hurricane Irma, as he arrived in the Caribbean.
The UK responded "extremely fast", he said, as he travelled to the British overseas territory of Anguilla.
Mr Johnson said the UK would be there for Anguilla for "the long term" after the island's "hellish experience".
His trip follows criticism from Caribbean residents and senior MPs that the UK's response was too slow.
Mr Johnson will visit Anguilla's worst hit areas, before heading to the neighbouring British Virgin Islands.
Anguillan chief minister, Victor Banks, said the visit by Mr Johnson "sends a very positive signal to Anguillians that the British are serious about their response to this very severe hurricane".
But he said money offered by the government so far was "not enough".
"I am talking about real capital infrastructure development by the British government.
"At the end of the day, the £10-15 million which is going to come to us is not going to be sufficient," he said.
The former attorney general of Anguilla, Rupert Jones, told the Guardian the £32m hurricane relief fund was a "drop in the Caribbean Sea".
Mr Johnson said further support would soon be made available and that the Prime Minister will make an announcement on Wednesday.
Anguilla, Turks and Caicos, and the British Virgin Islands (BVI) are among 14 British overseas territories which are all self-governing but the British government is responsible for their defence and security, with a duty to protect them from natural disasters.
Anguilla suffered extensive damage, and at least one person there has been confirmed dead.
Royal Marines are on the island helping clear up and repair damaged infrastructure, like the Princess Alexandra Hospital.
Mr Johnson called it the "biggest operation our armed forces have conducted since Libya".
Speaking at the home of Anguilla governor Tim Foy on Tuesday, Mr Johnson praised the community's response to the hurricane.
He added: "Talking to you all, it is clear this place has been through an absolutely hellish experience, and it is no doubt at all that you need help with power generation, with getting the hospital back up and running, getting the airport back up and running, and schools properly set. We are here to help."
Hundreds of UK troops have been sent to the British Virgin Islands and Mr Johnson said more would be joining them.
"The military presence is really ratcheting up now," he said. "There were about 700 troops in the region, that has now gone up to 1,000. It will go up to 1,250 in the course of the next few days."
The Royal Navy's HMS Ocean is on its way from Gibraltar to the Caribbean loaded with emergency supplies including timber, buckets, bottled water, food, baby milk, bedding and clothing.