Huffington Post founder Arianna Huffington to step down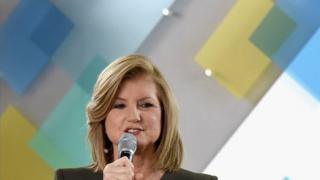 Arianna Huffington, who co-founded the liberal news website Huffington Post 11 years ago, has announced she is to step down as editor-in-chief.
She will leave the AOL-owned site to run a new venture, Thrive Global, she said on her Twitter feed.
"To everyone at HuffPost: it's you who make HuffPost what it is. I'm filled with gratitude to all the colleagues and friends I've made here," she said.
In 2011, AOL acquired The Huffington Post for $315m, and made her president.
'Productivity platform'
The Huffington Post was launched on 9 May, 2005, pulling together liberal-leaning news reports, and as an alternative to conservative news aggregators such as the Drudge Report.
The site offers news, blogs, and original features, and covers politics, lifestyle, and entertainment.
"The journey of the last 11 years has exceeded my wildest expectations," Ms Huffington said, referring to the HuffPost as it is also known.
Her new company Thrive Global is described as "a corporate and consumer well-being and productivity platform" designed to combat workplace "burnout".