ITV shares dip as FTSE 100 opens flat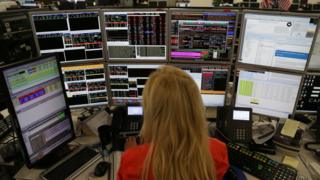 ITV fell 2.5% in early trade as the broadcaster's shares gave up gains seen last week following bid speculation.
Shares in ITV had jumped in late trading on Friday on talk that the company could be a takeover target for Liberty Global.
Overall, the UK market was little changed, with the benchmark FTSE 100 index up just 0.81 points at 7,323.74.
BP shares were up 1.3%, The oil giant said it had sold its Forties Pipeline System in the North Sea for $250m.
The biggest move of the day though came from Imagination Technologies, which saw its shares plunge 65% after US tech giant Apple said it would end a deal to use its products.
The move by Apple, Imagination's largest customer, means the loss of lucrative royalty payments.
Imagination relies on Apple for about half of its revenues, with the US giant using the UK firm's chip technology in its iPhones, iPads, and iPods under a licensing agreement.
On the currency markets, the pound fell 0.4% against the dollar to $1.2507, while against the euro it dropped 0.5% to 1.1724 euros.