Bank of England keeps interest rates on hold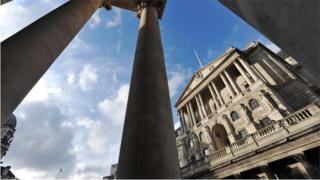 The Bank of England has voted to keep UK interest rates at the record low of 0.25%.
But it repeated its warning that if the economy keeps its growing as it has forecast, rates could rise faster than the market expected.
The Bank also said that the growth outlook was slightly stronger than it had predicted last month.
Meanwhile inflation is rising faster than the Bank's policymakers had expected just a month ago.
The inflation rate increased to 2.9% last month, and the Bank expects it to rise above 3% in October, well above its 2% target level.
Two members of the Bank's rate setting committee, Ian McCafferty and Michael Saunders, voted for the third meeting in a row to increase rates, arguing that inflation would continue to overshoot the target and a move now would prevent a sharper rise.
The rest of the nine-strong committee, including the Bank's governor, Mark Carney, voted to keep rates on hold saying that business investment, consumer confidence and consumption remained weak.
The Bank pinned the blame for the rise in inflation to the fall in sterling since the Brexit referendum, which has made imports more expensive.
In the past month, the pound has fallen by 1% against the currencies of its main trading partners.
The Bank also said the rising price of oil was adding to inflationary pressures.